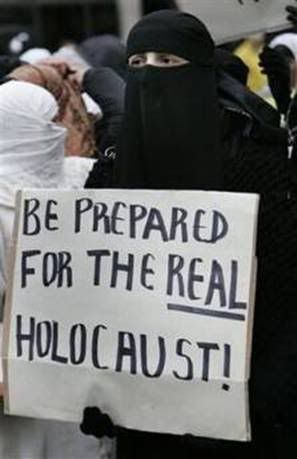 Due to unforeseen circumstances that have arisen from when I first started this blog, I am now aware that I need to be more specific about who and what the main theme of this blog is written about, so this is my disclaimer (better late than never).

In my view there are three different types of Moslems, and only one type of Islam that has the Koran and Mohamed as its root.

There are Religious Moslems, Cultural Moslems and Apostate Moslems, this blog which was started in December 2006 as a personal response to having my life threatened by Pakistani Moslems from Luton, is my written perception about Religious Moslems and their conduct, and about Islam in Great Britain and around the World.

I personally apologies to any Cultural Moslems or Apostate Moslems who are offended by my words.

I am not apologizing for any other reason than I have nothing at all against anyone who means me and my Judeo/Christian society no harm. Those who call themselves Cultural Moslems or Apostate Moslems are civilized human beings, or on their way to being civilized, who want to live and enjoy life in a civilized progressive 21st century society like the rest of us, without forcing their religion and way of life upon others like what Religious Moslems are doing.

I am a Christian and Jesus teaches us to love one another, no matter what the colour of our skin or what we believe, or where in the World we come from. The conflict arises though when another people group i.e Religious Moslems seek to enforce their religious beliefs upon others through violence, murder and physical threats.

I know Jesus teaches me to turn the other cheek, but if I do that they will kill me meaning I will be gone from this earth forever, and then they will take over my house and all of its belongings, and if I was married with children then these would then become their spoils of War, just like what history shows us (analogically speaking).

Jesus also teaches us to be at peace with all men as much as possible, meaning there are times when we cannot be at peace. Islam is a force that is making it impossible to be at peace, so what is the justified response to a force that seeks to kill you and take over?

It is an act of War when an alien force seeks to take over rule of the land from the host people who govern the Nation. In Islam this course of action, converting host Nations into Islamic rule is sanctioned as a religious obligation, and it is the religious duty for every Moslem to carry out if they are a good Moslems, and those who do not carry out this process are classed as Apostates of the religion. The Islamic terminology for this War is 'Jihad' (Holy War), and the military wing of Islam within Great Britain declared their military War on the people of Britain on 7/7. This was Al Qaeda's open declaration of War against the UK in their global Jihad that they have declared against the whole non-Moslem world. Jihad takes many forms, not just blowing up trains and buses, and now we are living in the era of fourth generation warfare where our societies are being destroyed from within by the enemy.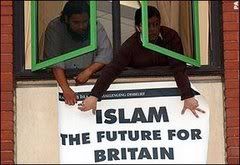 Religious Moslems are conducting Jihad on a daily basis against British society with the one aim in mind which is to destroy the British way of life, destroy our society and take over rule of the land so that they can enforce Allah's will through Sharia law upon the people.

Islam is a religious political military force that is seeking to conquer not just the British homeland but the entire world, and enforce Allah's will upon mankind, whether that is tomorrow or in 100 or 1000 years, this is the ultimate objective of the "Religion of Islam" that was birthed upon the Earth in the 7th Century by a savage paedophile barbarian who proclaimed himself to be a prophet.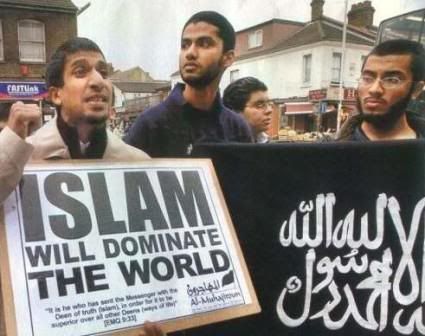 Religious Moslems today are following the teachings of this man that he laid down in the Koran, teachings that command his followers to subdue the whole world under Allah's will (Sharia law) by the word and by the sword – Jihad

Islam means submission, and mankind must submit to Islam, and it is a Moslems duty to his god to make that happen. The uninformed are led into a false sense of security by the ruling powers because they fear facing the consequences of telling the truth, they proclaim Islam is a "Religion of Peace", the only time Islam is a religion of peace is if Islam is the ultimate ruler over the people, even then though it is an environment of barbarism and savagery, and until that time comes, Islam is a "Religion of War".

Don't believe me? Watch this film: What the West needs to know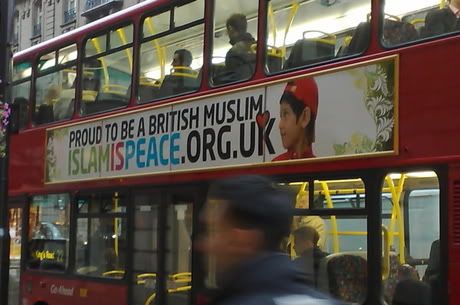 Islam teaches that it is an abomination for Moslems to be ruled over by non-Moslems, they believe that they, Moslems, are superior enlightened beings to non-Moslems who are nothing more than decedents of apes and pigs. This is another motivational factor that drives Moslems to conduct Jihad in whatever form so that Islam can become supreme and rule over everyone.

How stupid do you have to be to not realize that a Moslem ultimately wants to be ruled over by his Islamic faith, if they didn't then why be a Moslem?

There are many branches to the tree of Islam, on the one side you have the moderate face, and on the other the military face, with everything in between, with Mohamed and his teachings in the Koran being the root that every branch leads back to.

With upwards of 3 million Moslems in the UK what does the future hold for our children and grandchildren, now that this alien religious, political, military force is here?

Islam was birthed in War and bloodshed when Mohamed conquered Mecca and Medina; War is an integral part of Islam as it seeks to enforce its will upon non-Moslems, thus making them submit to Islam. Once the land and people have submitted to Islamic rule, the people then become second class citizens; they live under what is called Dhimmitude, ruled over by Islam, as Dhimmi's, forced to pay a tax called the Jiyza tax.

Bit by bit British society is being forced to surrender to Islam and its inhumane, barbaric and savage ways, this is called the Islamification process, and if it is happening now, then where will it end in the future where your children born and unborn reside?

A bit like terminal cancer.

You can live in denial and deny it, you can try not to believe it because your mind cannot comprehend it, but the facts are the facts that are very clear for you to see if you care to delve inside and take a look!

The greatest Jihad in history has begun upon the Earth – The global Jihad - Led by Osama Bin Laden, Islam's greatest military leader since Mohamed. On the ground throughout the Moslem World, the chants are very clear, death to America, death to Israel, and Death to the West. On top of that there are several Islamic military forces actively daily at war all over the World against us.

There can only be one winner at the end of War – Them or Us – No middle ground.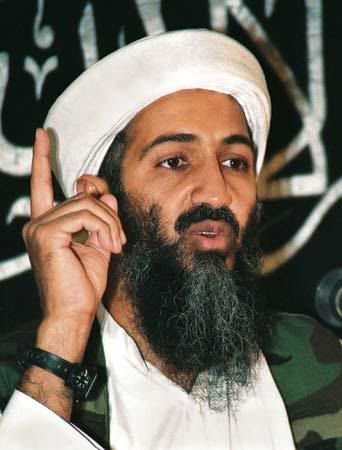 Cultural and Apostate Moslems do not want to harm other people because their 'religion' tells them too, and they are not set on converting our society into one governed by Sharia law, so that being the case I have nothing against them at all, so apologies that I have not defined this position earlier.

My Definition

Cultural Moslem – A cultural Moslem is someone from a Moslem background or country who does not live the life of a Moslem but just claims the label Moslem because of his/her ethnic cultural background. They are no more a Moslem than a person who claims to be a Christian because he/she says they are CofE. This is a cultural name they give to themselves because it is what surrounds them and where they are from.

To be a Christian means you have accepted Jesus Christ into your life and accepted the sacrifice He made upon the cross for you, not because you say you are CofE and are a good person.

To be a Moslem means Mohamed is your highest example or moral conduct and you are to follow his commands on a daily bases that are laid down in the Koran.

Apostate Moslems – An apostate Moslem is someone who rejects the barbarity and savagery commanded by Mohamed, someone who has seen the light and rejects certain aspects of the false faith that conflict with a civilized society.

Rejecting Mohamed's teaching makes a Moslem an apostate in the eyes of the religious leaders within the Islamic faith because Mohamed is the perfect example for his followers, so to reject what he has taught and commanded is to reject the false prophet himself, thus rejecting Islam.

Religious Moslem – A religious Moslem is a Moslem who upholds every aspect of Islam, someone who seeks to follow Mohamed's example and conduct in their daily lives, a person who is fulfilling the fundamental teachings of what Islam commands, chiefly Jihad against the non-believers, so as to enforce Islam upon them.

It is a religious Moslems obligation to convert, subdue, terrorise and kill non-believers in the pursuit of spreading Islam.

At the moment religious Moslems are a minority within our civilized Western society so the terror and bloodshed is minimal in comparison to the size of the population, in reality though, why are we even entertaining this savagery and barbarity within our society?

My blog writings are specifically aimed at religious Moslems because they are the ones who are eternally at war with non-Moslems, who are seeking to enforce Islam and sharia law upon innocent people through Jihad.

In service of the King – Jesus – The Lion of the tribe of Judah

Lionheart




Watch for yourself what is being preached in British Mosque's

You tell me whether or not the highest Religious authority in Saudi Arabia which is the home and birth place of Islam does not look like a devil incarnate that has arisen from the pit to command the spread of this demonic force across the World.