Godon Brown must be sitting back chuckling to himself and Conservatives Andrew Selous must be scratching his head in wonder.

Labours selected candidate doesnt even live in the area so what does he know about OUR communities, wouldnt he have been better placed in Luton to replace Margaret Moran?

I think so...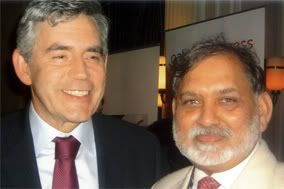 Labour wannabe targets Selous
BY LUI STRACCIA

A new Labour Prospective Parliamentary candidate for South West Bedfordshire has been selected.

Professor Prem Sharma has got the nod to represent the party and will seek to oust longstanding Conservative MP Andrew Selous at the next election.

Professor Prem Sharma With Prime Minister Gordon BrownAnd he got a few bits of advice from under-fire Prime Minister Gordon Brown when he met with him in Manchester last week at the Labour Party Conference.

Professor Sharma, who lives in north west London and is married with two children, has worked as a civil service consultant and as a lecturer in community law.

In the past he has carried out research on international law migration and discrimination in his PhD thesis and currently works with the new Ealing Southall MP.

He is also the Home Secretary representative on the Metropolitan Police Authority Selection Panel.

Professor Sharma said: "I am extremely happy to be selected as the Prospective Parliamentary Candidate for South West Bedfordshire.

"I have many friends and family in the area and am well aware of the problems facing South West Bedfordshire.
"In this time of international economic turbulence it is essential that the local area has a candidate that supports the decisive leadership of Gordon Brown and the Labour Government and can voice the opinions of the local electorate at the highest levels."